What's that you say? You're not an "E-Commerce" business? Not so fast. After you read about these three creative ways to make money on your website, you just might change your tune.
I used to think that E-commerce (i.e. selling items on a website) was only for companies that sold physical products: water bottles, clothing, and the like.
Not so!
Over my 12 years running a web design business, I have learned that with a little creativity and outside-the-box thinking, there are endless ways to take payments on your website.
To get your creative juices flowing, below are three great ideas (with real-life examples) for adding E-Commerce to your "NON E-Commerce" business website 😉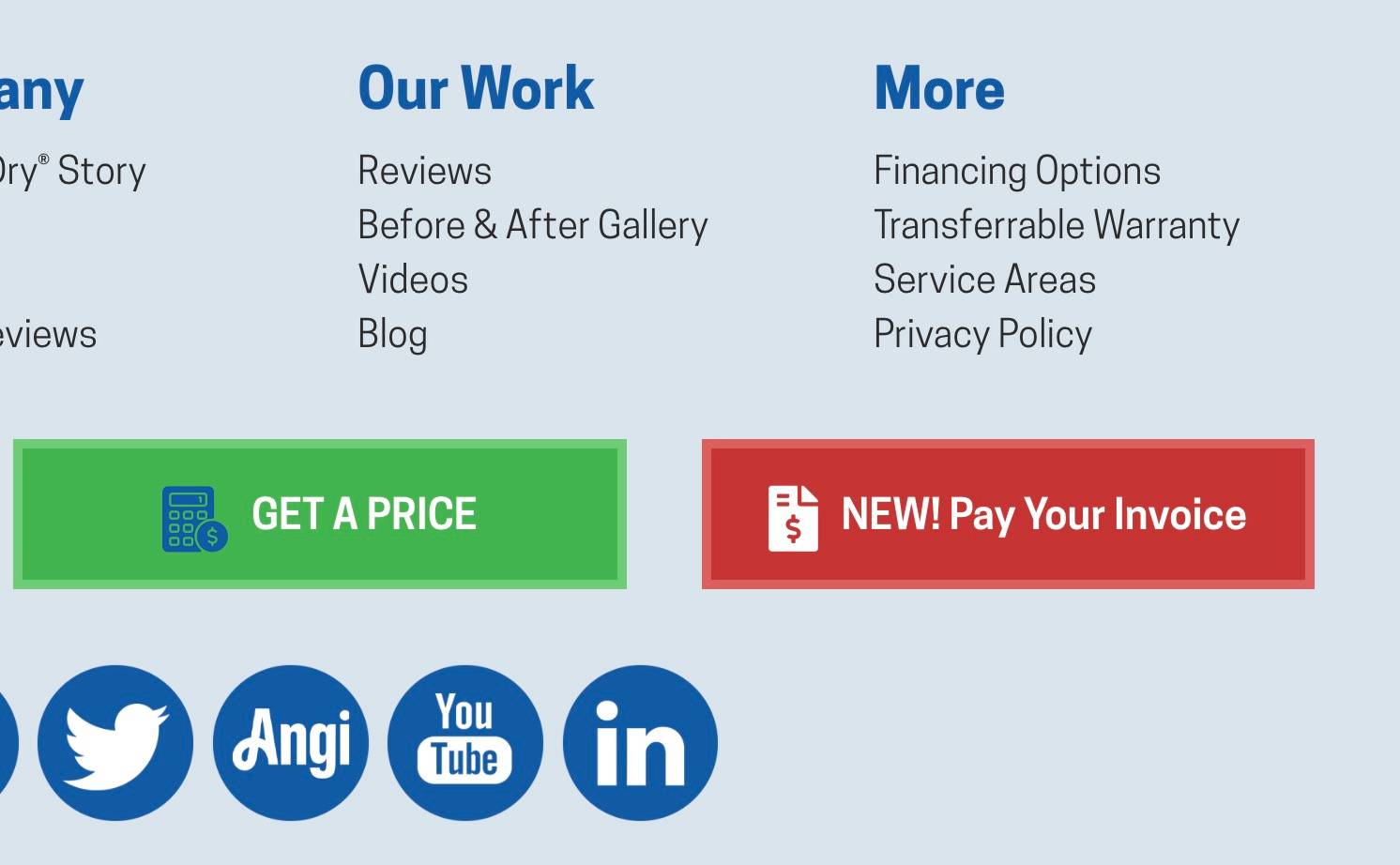 Allow Customers to Pay Their Invoices on Your Website
One of my clients has a highly inspired founder who is always coming up with new ideas for the company website. One day he emailed me and asked if there was a way for his customers to pay their invoices right on the website. My response was – of course – absolutely! Although there's nothing wrong with having your customers pay their invoice via other methods, there lies a simplicity in telling people they can simply go to your website and click the link at the bottom of the page, am I right?
Example: Check out the Pay-Your-Bill Feature at StayDry Waterproofing.

Sell Your Services as Add-to-Cart Products
While some services' prices can't be stated without more information from the customer, the truth is that many can. Are there any services in your business that you DO always know the price for? Perhaps it's hourly sessions of various types or a set package rate. Offering your services as add-to-cart products allows your visitors to make a move in the "heat of the moment" – and that's a powerful thing.
Example 1: Highly in-demand writing teacher Alan Watt hosts an 8-day writing retreat in Italy each spring. Rather than have site visitors contact him for more information, they can pay for the retreat right on the website. Very smart. Visitors can also sign up (and pay for) any one of his writing workshops throughout the year. Check out Alan Watt's savvy online presence.
Example 2: Dog trainer Abbie allows website visitors to pay for and book any one of her many services right on her site. Whether it's a Puppy 101 Chat or a Pet Photography Session, there is nothing to stop you from paying at the very moment you're interested. Check out dog trainer Abbie's online shop.
Offer Low-Cost PDF Downloads – or Even Merch!
Many business owners are familiar with offering a free PDF download in exchange for visitors subscribing to their mailing list. But what about listing juicy-with-helpful-information PDF downloads or audio files for sale? The beautiful thing about this idea is that it offers visitors who aren't ready to commit to your higher-end offering a way to still get some great value AND learn first-hand how awesome and brilliant you are.
Example: NYC jazz saxophonist Alexa Tarantino is an inspiration to anyone thinking of starting an online shop. Not only can you get TONS of Alexa-branded merch like laptop cases, hats, and more – you can even purchase a private music lesson with her or gift a dedicated video performance of a song to a loved one. Check out Alexa Tarantino's online shop.
In Closing
When it comes to accepting payments on your website, your only limit is your own creativity. I hope the three above ideas and four examples have shown you that. And if you're looking for more help with money making and money mindset in your business, you might enjoy the following quick-reads from Janelle (that's me) at Ellanye:
5 Ways to Improve Your Money Mindset (and Raise Your Prices)
Before You Set Your Prices, Read This.
The 5 Smartest Investments to Make in Your Business
How to Attract High Paying Clients: Your 5-Step Formula
How to Sell Without Being Pushy or Salesy: It's All About Mindset