When you get a puppy, everything changes. It requires a total "recalibration" of your life as you know it. What other things in life require recalibration and how can we better prepare for them?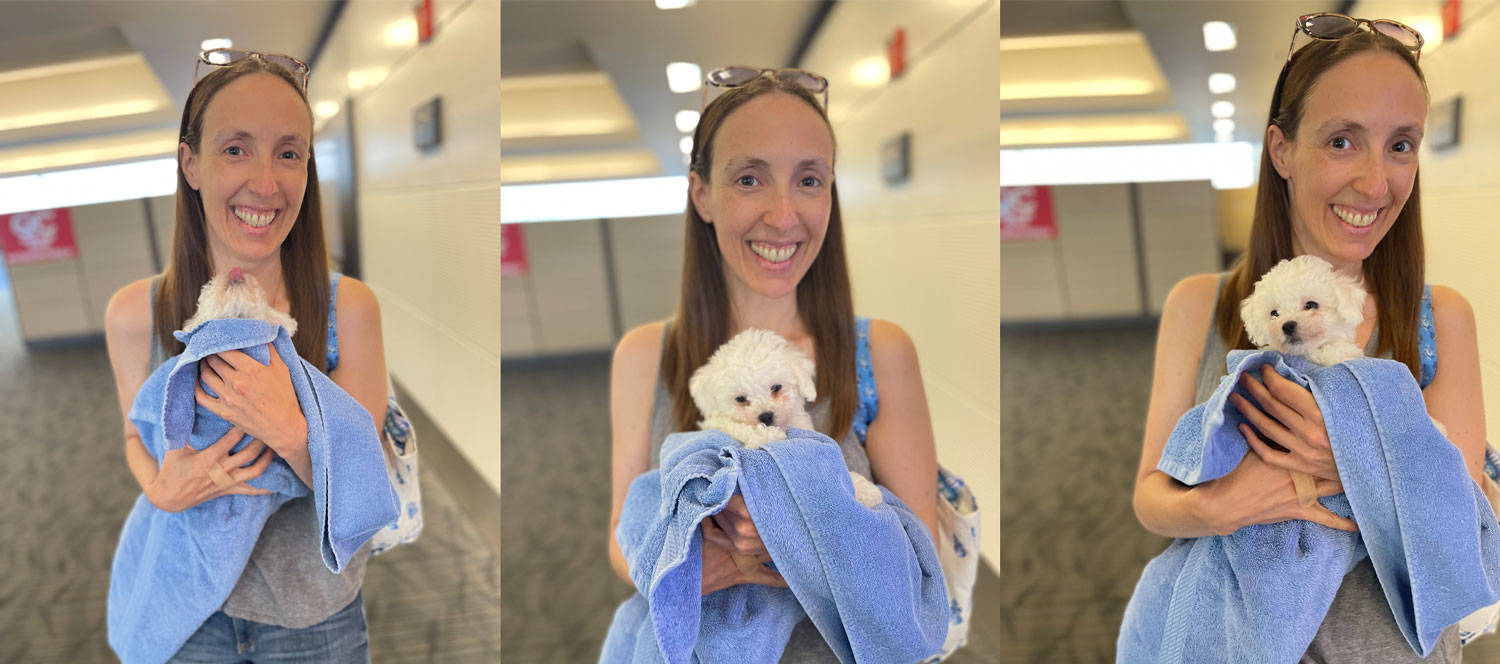 Childhood Dreams … Come True
I've wanted a dog ever since I was, oh I don't know, 7 years old? Somewhere around there. Due to a variety of factors (well, OK, primarily one factor actually – my Dad wasn't having it) it simply wasn't going to happen for me. I made peace with my run of hamsters, respectively named Hammy 1, Hammy 2, and Hammy 3. Still, over the years, whenever I'd see someone with their dog I'd think to myself: "One day."
And as it turns out, that day was this past Saturday, at 5:30 PM to be exact. I named the little guy Hudson after the Hudson River along the west side of Manhattan where I used to see countless dogs on my daily walks when I lived there. When I met Hudson it was pretty much love at first sight.
Clarification: it was absolutely 100% love at first sight.
Meet Hudson
He's a Bolognese (Ball-uh-NEEZ) breed, not to be confused with Bolognese (Ball-uh-NAYZ) the meat-based pasta sauce (however as it turns out, they both originated in Italy). Basically, he's a 3 lb. ball of soft fluffy white hair who loves being rocked like a baby, kisses, belly rubs, naps in the corner, and treats all day long.
A Mindset Shift
For a big portion of my adult life, while I did want a dog, I also deeply feared everything it would force me to give up, primarily total freedom as I knew it: nights out without a thought of when I'd get home, the ability to leave town at a moment's notice, etc.
But at some point, roughly around my 38th birthday, my "getting a dog" mindset changed. Instead of thinking of the dog coming and me having to give up a million things in order to take care of it, I began thinking of it instead as a temporary "Recalibration" of my life. During this recalibration period, life would undoubtedly feel a bit crazy, a bit unhinged, and a bit scattered. But after that, once the dust settled (i.e. the little guy learned how to pee outside and be alone for periods of time), life would surely be better than it was before. With all that added love, laughter, and joy, how in the world could it not be?
So I did it.
Craziness and Joy
And now that he's here? Things definitely feel crazy, unhinged, and more than a little scattered. I'm pretty sleep-deprived (mainly because I lie awake at night worrying if he's as happy as he can be!) and I still have a lot of unknowns, such as how I can get him to ride in the car without whining nonstop or what he looks like right before he's about to go #2.
But because I went into this experience with this notion of "Recalibration" I am definitely more taking it all in stride. Plus, he's the cutest puppy I've ever seen and I'm without a doubt already completely in love!
What experiences in your life, past and perhaps future, required or might require some Recalibration?
If you could anticipate what that Recalibration might feel like ahead of time, could it soften that transition period while you're actually going through it?
I bet it could 🙂
Here's one more photo of Hudson. You're welcome.
<3 Janelle