Are affirmations a load of bologna or do they actually work? I decided to make myself the guinea pig and put them to the test. Here's what happened.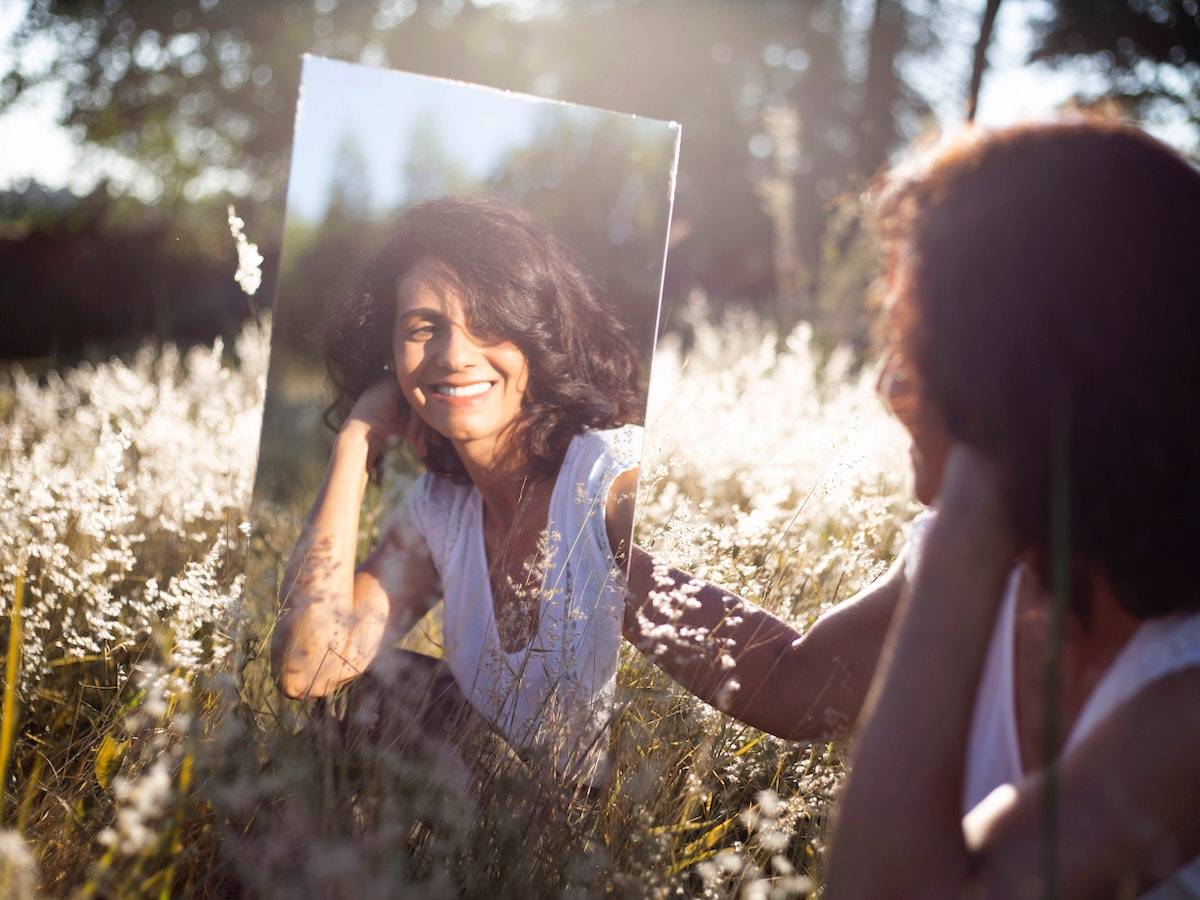 "I am a wonderful person and I love myself!"
"I am 100% OK, just as I am."
"I am strong and I can do hard things."
What do you say to yourself when you look in the mirror in the morning?
As it turns out, it matters. A lot.
When you say or think something to yourself over and over again, the synapses in your brain that support that thought actually become physically stronger over time (and this happens regardless of whether your thoughts are positive or negative!).
(Check out NPR's Can Thoughts and Actions Change Our Brains? for more about the science on this).
An Experiment in Affirmations
I used to think that positive affirmations were a load of hogwash. You know, fluffy stuff that sounds nice, but not really capable of creating any truly lasting change.
So one day I decided to put them to the test.
I vowed to choose a positive affirmation for myself, and say it to myself every single time I looked in the mirror. Additionally, I wrote this affirmation on several notecards and put them up around my house. Every time I saw one of them, I said this affirmation to myself again.
The affirmation I went with was this: I am a kind, creative, and brilliant woman.
(Let's just say this was at a time when I could have used a little boost in self-confidence).
So what happened?
Well, actually, it's a crazy thing. After weeks of this practice, I noticed that I started to believe what I was telling myself. And I don't mean in a shallow "Sure I love myself, really, I do" kind of way. I mean in a deep, meaningful, and profound kind of way.
I intentionally chose how I wanted to feel about myself, and then I trained my brain, day in and day out until it (and me) started to believe it. It was a life-changing experience for me, and one I've never forgotten. Now when I catch myself thinking something negative about myself or my abilities, I remind myself that what I think is in my control.
And you know what they say: When we change our thoughts, we change the way we feel. When we change the way we feel, we change the actions we take in life. And when we change the actions we take in life, we change our lives altogether.
Now It's Your Turn
Feeling curious? If you're ready to take the Affirmation Challenge yourself, here are your three steps:
Step 1: Choose Your Affirmation
Your words of affirmation should come directly from a desire or goal you have about how you want to FEEL.
Do you want to feel more confident? More radiant? More self-loving? Or is there a particular area of your life in which you want to feel differently from how you do now?
Once you've chosen your goal, write an affirmation that supports that goal. Choose words that ignite and inspire you – like if you could believe them fully, wouldn't THAT be something?
Step 2: Say Your Affirmation to Yourself Often (sometimes out loud!)
I made it a goal to say my affirmation every time I looked at myself in the mirror – that way it was naturally incorporated into my day any time I used the bathroom or passed a mirror. To remind me of my affirmation at other times, I put up note cards around my house with my affirmation written on them. This way, it was always with me – not too far out of reach.
Step 3: Watch What Happens
As the weeks go by, you might notice that how you relate to your affirmation will change. What at first might have felt silly, forced, or even impossible might just feel plausible and not so crazy after all. Don't be surprised if, after weeks or months, your affirmation even becomes a part of you and a part of your core belief system. You will have changed your thoughts and subsequently, how you feel.
And the best part? You can change or add affirmations anytime you like! You have an infinite supply and will never, ever run out.
Don't forget to let me know how it goes 🙂
Looking for more?
If you liked this post, you might also enjoy this popular post from the archives, Mindful Self Compassion: Give Yourself Permission to Feel _________.